---
It's strange how we got into the swingers scene, we've been married for 12 years and we've always had a active sex life and recently after watching some porn videos we'd bowered from a friend our interest in involving others started coming into both our minds
A bit about my wife, she sex mad and for the last 12 years I've been playing catch up with her demands and at times its been hard going (no pun intended) and after watching this video where this wife was fucked by a load of guys at t e swingers club I could see this excited her
I'm not a possessive person and the idea of others having sex with my wife didn't worry me and knew she would be more than up for this so we joined a swingers contacts website – Messages were going backwards and forwards and whilst we'd not meet with anyone we were having fun, but one night my wife Karen said that she'd been chatting in the chatroom with some members and they told her about this swingers club that had opened and how did I fancy giving it a go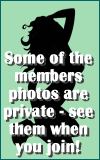 I know just why she wanted to go, she wanted to get her kit off and experience a group fucking like the one she saw on the swingers video and whilst I know these are normally set up I presumed that a swingers club would not be short of males so we arranged to go
That night I knew she was going to get dressed for sex and I wasn't wrong with a short skirt and a vest top that only just about covered anything up. Once in the club we had a couple of drinks and as there was some music playing she got up and started dancing with a couple of guy, I was sitting back playing cuckold and watching, something I was find VERY enjoyable
As she was dancing it was getting more and more erotic with her tits and bum getting groped and she had a small group of guys around her and one of them suggested going into a room that was next to the dance floor. She walked over with a couple of guys but others seemed to be taking interest as well. Walking over a few minutes later I could see Karen at first, but could hear sounds from the back and seeing Karen he skirt had gone and the guys had there cocks out wanking off.
By the time I got closer her tits were out and was kneeling down by this guy sucking his cock and by now more guys were coming into the room, another one of the guys pulled her to her feet and pulling down her knickers he bent her over and started fucking her from behind and she took another cock in her mouth and I settled back to watch the show.
She was now getting a cock in both ends and the rate the guy was fucking her practically forcing the other guys cock down her throat and had she not been a women that loved deep throat BJ's she would have choked. The rate he was getting sucked I knew he wouldn't last long and he soon shot his load the guy doing the fucking didn't last much longer either and you could see cum dripping from her pussy and as his cock was still inside her she had her first orgasm as she came.
Karen laid back on the floor that had a massive mattress on the floor and opened her legs wide showing cum dribbling out after the last guy fucked her "so don't stand there wanking I'm here to be fucked" talk about a red flag to a bull one got on the floor between her legs and started to fuck her and another got up the other end and was knelt over her whilst she started sucking him off swallowing him all the way down her throat.
Then over an hour she took one guy after another and she must have fucked and sucked 10 guys and after a while stopped and we moved out of the private room back into the dance floor, although now she wasn't able to do any dancing and we chatted before joining a bigger group in a private room that was more couples and rather than watching I enjoyed some fun
Since then we've started meeting members and are loving the swingers scene and wished we'd joined up long time ago
------------------------------------
More Wife swapping stories ...........